Buy Sour Diesel | 100% good quality
$300.00
The Sour Diesel is best if you let it go the full 10 weeks and the taste lingers in your mouth well after the exhale.The Sour Diesel is a good yielding, stretchy strain that produces light green, frosty, sour flowers that have a pinkish color when finishing.
Description
Sour Diesel Marijuana Strain Genetics – 91 Chemdawg x Mass Super Skunk/NL (60% Indica : 40% Sativa) Flowering Time – 10 Weeks
Yield – 450-550g/m2
Look – Lime green buds covered with trichomes and light orange hairs.
Smell – There are only two words to describe the way this marijuana strain smells. Sour Fuel.
Taste – Nice and sour on the inhale, and a nice fuely exhale that stays on the tongue long after smoking.
Effects – Even though this is an Indica dominant strain, it is very cerebral, with a nice calming, relaxing effect.
Medical Uses – Mood enhancement, stress, muscle relaxant
---
Sour Diesel, sometimes called Sour D, is an invigorating sativa-dominant strain named after its pungent, diesel-like aroma. This fast-acting strain delivers energizing, dreamy cerebral effects that have pushed Sour Diesel to its legendary status. Stress, pain, and depression fade away in long-lasting relief that makes Sour Diesel a top choice among medical patients. This strain took root in the early '90s, and it is believed to have descended from Chemdog 91 and Super Skunk.
About Sour Diesel
Sour Diesel, sometimes abbreviated as Sour D, is an extremely popular strain, distinguished by the fuel-like chemical smell of its flowers. It has a mostly sativa head high with some subtle physical indica relaxation, making it popular among recreational and medical users alike. This is a potent strain, with a THC content that had been measured at between 20% and 25%.
Because the underground cannabis market of the 1980s and 90s operated without any kind of lasting documentation, the exact origins of Sour Diesel are not known. Although a definitive agreement on its original genetic makeup doesn't exist, Sour Diesel's popularity has made it the subject of much speculation. Some believe that true Sour Diesel was derived as a distinct phenotype of an original strain simply named Diesel. Others say that it was a phenotype of Chemdawg that leaned more sativa than indica. Still others claim that it was a cross of Chemdawg and Northern Lights, or perhaps Chemdawg, Northern Lights, and Skunk #1.
Sour Diesel has round, medium-sized buds with leaves that appear yellowish-green. Red hairs called pistils, structures that operate to catch pollen from male plants, contrast with the densely-packed leaves. When properly cured, the flowers are somewhat sticky — the dusting of trichomes is not as immediately obvious as it is on more resinous strains like White Widow. Nevertheless, breaking open buds reveals trichomes coating the insides of the dense flowers. The buds have an overpowering smell that, true to this strain's name, is very similar to gasoline. The odor also has some hints of orange. Breaking open or grinding the buds intensifies this scent, and adds components of musk and pine sap. Sour Diesel has a notoriously harsh, acrid smoke that can cause users to cough or make their sinuses water. The smoke has a sour and vaguely skunky taste that many describe as unpleasant; on the exhale, the diesel's almost ammonia-like tang stings the palate and may linger for a long time afterward. Smokers trying to remain discreet should be warned that this is a very pungent strain whose odor can carry for quite a distance.
The high from Sour Diesel comes on users quickly in the form of a warm and pleasant head rush. An uplift in mood may be noticeable as well. Although Sour Diesel stimulates synaptic activity in the brain, the character of this head high is more spacey than intensely cerebral. Users may feel chatty if surrounded by others or somewhat introspective if enjoying the strain alone. For many, this soaring high is partially anchored by a slight feeling of physical relaxation. That said, a body stone that leads to full-on couchlock is rare. The sense of euphoria that comes with this variety may be helpful in treating some symptoms of mild stress, anxiety, or depression. Its tendency to lead to associative thinking may provoke a bit of creative inspiration. Fans of the strain also describe relief from troublesome aches and pains. Sour Diesel's combination of mental and somatic effects may also make it a potent aphrodisiac in certain situations. As is common with many strong sativas, the altered mental state brought about by Sour Diesel may prove overwhelming for some, leading to paranoid, recursive thinking or a feeling of being generally "out of control" of one's thoughts or body. Users, especially those with a lower THC tolerance, should adjust their intake accordingly. Sour Diesel has an average-length high that lasts about 2 to 3 hours.
Seeds of Sour Diesel are packaged and available for sale from several seed bank retailers. Growers can also raise plants as clones, taking clippings taken from fully grown plants of the same strain. Sour Diesel can be grown indoors or outdoors, although outdoor cultivation requires semi-humid, Mediterranean-like climates with daytime temperatures between 72 and 80 degrees Fahrenheit. The plants are more characteristically sativa than indica, with a tall, spindly appearance and large spaces between flowering nodes. Plants can grow to be over four feet tall, with their height increasing exponentially during the flowering stage. For those growing indoors, bending and pruning branches early in the vegetative stage may help train the plants to fit within limited vertical space. Sour Diesel flowers within 10 weeks when grown indoors and around early November when grown outdoors. It has a moderately high yield: growers can expect between 42 and 56 grams (or between 1.5 and 2 ounces) per square foot of plant.
Additional Strain Info
The Sour Diesel is a good yielding, stretchy strain that produces light green, frosty, sour flowers that have a pinkish color when finishing. The Sour Diesel is best if you let it go the full 10 weeks and the taste lingers in your mouth well after the exhale. It is recommended to pinch and bend the tops as she grows because of the stretch, this will also improve yields. If height is an issue, you can still take advantage of this strains stretch in the first 3 weeks by putting your rooted clones directly into flower for a 3-4 foot finish or 1-1.3 meter finish. The Sour D. is great for the beginner or the experienced grower because she is not too nutrient sensitive and can be worked to perfection! A favorite among favorite and well documented you can now add Sour Diesel to your garden and see what all the fuss is about. 2nd Hash HT Cannabis Cup 2010
Marijuana and Depression: Does Weed Make it Better or Worse?
Depression, or major depressive disorder, is the leading cause of disability in the U.S., affecting approximately 8.1 percent of adults over age 20 each year. While it affects both men and women, it is much more prevalent in women.
Those who suffer from depression look for treatments or ways to help reduce depressive episodes and, with the legalization of marijuana in many states, many are learning that it may help.
But can marijuana really help with depression?  Can it be the cause of depression? As marijuana research begins to expand, we are learning much more about the benefits it offers for many different medical conditions, including depression.
Also known as Sour D, Sour Diesel is a sativa strain exuding a citrusy, sour pungent odor with a zesty, earthy taste. Its leaves are a deep green, with calyxes covered in white trichomes and thin hairs when ready to harvest.
Sour Diesel's lineage has been lost, but it's believed to be a cross between the hybrid Chemdawg, the indica Northern Lights, and a hybrid Skunk phenotype.
It's THC levels have been known to be as high as 25%, but its average is around 17%. This sativa strain creates a plethora of cerebral activity, with the majority of reviewers reporting an increase in creativity and energy. It has been known to help with fatigue and calms anxiety, making this a great strain for a wake-and-bake.
Expect a dry mouth and dry eyes if consuming Sour Diesel. Reviewers note paranoia is also a common side-effect due to the cerebral activity it induces which can be overwhelming for some. Although Sour Diesel stimulates the mind, enhancing senses, it can also cause one to become easily distracted making it hard to hold a conversation or focus on one thing at a time.
This potent strain is ideal for avid cannabis consumers, not first-timers.
Lab Data
Cannabinoid Lab Data

| Cannabinoid | Amount |
| --- | --- |
| THC: | 31.94% |
Terpene Lab Data

| Terpene | Amount |
| --- | --- |
| Limonene: | 0.977% |
| Beta Myrcene: | 0.869% |
| Beta Caryophyllene: | 0.499% |
---
Lineage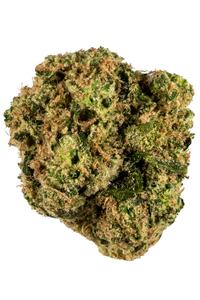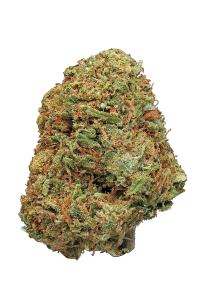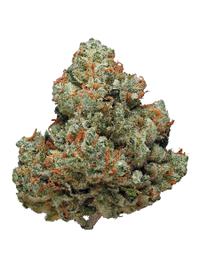 According to online sources, Sour Diesel gained prominence in New York in the mid-90s when breeder AJ (short for A**hole Joe,) accidentally pollinated a Chemdog 91 female with pollen from a Super Skunk he acquired during a trip to Amsterdam. The end result, Sour Diesel, was reportedly named for the way it soured business relationships as it spread through New York's underground cannabis market, causing rifts as it changed hands among growers.
Marijuana Benefits for Depression
Research on depression and marijuana is still in its early stages. Currently, there are no randomized controlled trials that show sustained benefits of cannabis use in the treatment of depression. However, there are studies, including animal studies, that show positive results.
Thought to be an accidental cross when the DNL hermied, Sour Diesel (or East Coast Sour Diesel, as it's commonly called) is a special plant in the OG Kush/ChemDawg line of strains.  Its often "crushing" sativa effect actually seems to hit most people as more of an indica, increasing couchlock and being strong to the point of being overwhelming at times.  The plant itself is a fairly lanky one that tends to show lots of foxtailing when finished, practically stinking up the room with its pungent fuel-skunk-citrus bouquet.
Lineage
Unconfirmed, thought to be Original Diesel (ChemDawg '91 x [Massachusetts Super Skunk x Sensi Seeds Northern Lights] x DNL (Northern Lights/Shiva x Hawaiian)
Story
When Original Diesel was accidentally crossed with a DNL plant that hermied, it created seed stock that produced the East Coast Sour Diesel (ECSD) clone.  Many seed companies have released crosses with the strain, and some (like Reservoir Seeds) have attempted to reproduce the strain in seed form, releasing a variety of backcrosses and IBLs with varying results.
Aroma
Sour Diesel displays an extremely pungent blend of fuel, skunk, citrus, and spice that will leak through many jars and bags when the strain is well-grown.  The sharpness gets stronger after breaking it up, adding a stronger kick of citrus as well as a cutting fuel aroma that tickles the nose.
Flavor
A frontal attack of skunky citrus funk gives way to a mentholated lime-kissed spice which lingers in the mouth.  The smoke is expansive and will definitely cause coughing on larger hits.
Qualities
Sour Diesel is fairly sativa-dominant but seems to exhibit a headslam of an indica effect at times, especially if let go late into flowering.  It hits the eyes and head immediately, filling them with pressure and energy, while the body seems almost immobile at times, trending heavily towards couchlock — a numbing quality is also often reported, aiding with nerve and muscle pain relief.
Grow Medium
Sour Diesel doesn't yield quite as well as Original Diesel, growing a bit more spindly and with lighter buds, but the yield is still above-average.  Training and netting works very well for this strain, and it will take moderate to high amounts of feeding during flower, bulking up until the very end.  It stretches at least twice its initial height when flowered, more than that without training.
Reviews
Actually I have both Sour D and East Coast sour d..never leave home without it!
Sour Diesel
Perfect for indoor growing
Like many of the best cannabis strains coming out these days, Sour Diesel comes straight from California. It is a favourite with many smokers and growers. These powerful American genetics will grow well indoors around the world; outdoors, on the other hand, they need a warm climate, similar to California or Spain.
Very appealing resinous buds
This is a mostly Sativa strain which shows in both its growth structure and the strong high effect it gives when consumed. The plant develops its resinous buds and powerful aroma over a 10-week flowering period. These plants will grow to a height of around 100-130 cm, with some stretching during early flowering.
Chemical and sour flavour
Sour Diesel is a very pungent, aromatic strain. Heavy chemical, herbal and sour flavours come from its glistening buds. When grown well, it will give yields of 450-600 grams per square metre. This is both a yield in quantity and quality, producing high-quality, resinous, aromatic buds. Full Diesel power!
This strain is one of Grant's top picks! Sour Diesel has a mysterious lineage and is rumored to have the genetics Chemdawg 91′ x Super Skunk. What we do know is that its pungent gassy fuel aroma is unmistakable and easily recognizable. The fuel comes through on your taste buds as well with a subtle sweetness.  This sativa-dominant strain can provide a positive mental boost.
SOUR DIESEL: INCREDIBLE SATIVA FROM CALIFORNIA
Sour Diesel is one of the most famous cannabis strains around. The good resin producer from California impresses with a intensive full-flavoured smoke and a mind-blowing high: the staples of great West Coast weed!
For many cannabis lovers, nothing can be better than strains from the West Coast of the United States. Sour Diesel is one of these famed legends. Bred under the endless Californian sun, she is based on the Original Diesel with added Northern Lights, Shiva and Hawaiian genetics which give her amazing qualities and the plant many enthusiastic fans all over the world.
This mostly sativa (70% sativa) grows very well indoors where she will normally reach a height of 90-160cm. There will be some stretching when she flowers but not as much as with other sativas. She will develop very resinous buds that will have a very intense aromatic scent to them in flowering.
You can also grow her outdoors but then she will do best in a warm climate like in the Mediterranean. In such good conditions, when she has plenty of sun she will only get a little taller but can then yield as much as 600g per plant.
Pretty-much like most cannabis strains, she will need about 3-4 weeks when she grows in the vegetative phase. After that, she will enter her flowering period that for a sativa-dominant hybrid is a pleasantly short 10 weeks.
Like some of her other sisters from the West Coast of the USA, Sour Diesel shines with a unique flavour and some extraordinary potency. She delights with the trademark Diesel notes that make this line of cannabis so special along with some sour and herbal tones. With 19% of THC in her smoke and last but not least because of her stellar parents, she delivers a very powerful sativa high that is clear and focused together with some nice relaxation from her indica side.
Sour Diesel is a legendary strain for so many good reasons. If you love sativas, you can't go wrong with growing this West Coast favourite!
GROW YOUR OWN SOUR DIESEL
GROW DIFFICULTY

MEDIUM

FLOWERING TYPE

PHOTOPERIOD

FLOWERING TIME

10 WEEKS

HARVEST TIME (OUTDOOR)

OCTOBER
YIELD (INDOOR)

MEDIUM

YIELD (OUTDOOR)

600 G/PLANT

HEIGHT (INDOOR)

90-160CM

HEIGHT (OUTDOOR)

MEDIUM