Buy Grape Ape strain | 100% good quality
$300.00
Grape Ape Strain, propagated by Apothecary Genetics and Barney's Farm, is a mostly indica strain that crosses Mendocino Purps, Skunk, and Afghani. Named for its distinct grape-like smell, this indica is known for providing carefree relaxation that can help soothe pain, stress, and anxiety.
Description
About Grape Ape strain
Grape Ape strain is a tasty, memorable strain with strong indica roots. Its distinctive look and complex fruity flavor makes it an easy favorite — to say nothing of its incredibly potent body high. Grape Ape strain is the product of strains as different as Mendocino Purps, an award-winning Northern California crossbreed, the influential staple strain Skunk, and a legendary Afghani landrace. The combination of these nuances has yielded a bold and visually striking variety.
There are different varieties of Grape Ape, with seeds available from Washington State-based Apothecary Genetics and Barney's Farm, the seed bank responsible for creating other taste-focused strains like LSD and Pineapple Chunk. Testing lab Analytical 360 has tested samples of Grape Ape at between 15% and 25% THC composition.
Grape Ape strain is marked by standout colors and multi-layered scents — this is strain with more consumer "bag appeal" than most. Buds are large and have a dense bud structure with tightly-curled leaves. The leaves themselves are a deep green, with certain phenotypes expressing shades of purple and even red, with copper-colored pistils throughout. Trichome count varies from moderate to high, leaving the flowers especially sticky. The multicolored leaves are also very pungent: a candy-like grape smell wafts from the chunky buds. Breaking open the sticky flowers with a grinder gives off a different odor, with some skunky musk from the Skunk #1 parent and more of a thick hash scent from Afghani. When inhaled though, the slightly harsh smoke from Grape Ape tastes more fruity than skunky — notes of grape and berries predominate, leaving behind a sweet sensation at the top of the palate.
Notably, the grape taste and purple flavor of Grape Ape strain aren't necessarily correlated. Colorful leaves in cannabis are the result of pigments called anthocyanins activated by different conditions, like cooler temperatures. The tastes of different cannabis strains, on the other hand, are mostly determined by compounds called terpenes, and while many strains prone to producing purple leaves also have a combination of terpenes that create a grape-like flavor, not all purple strains taste like grape. In the case of Grape Ape, it may be the case that consumer-focused growers intentionally bring out purple hues for the added visual appeal.
Grape Ape strain has a high that mounts slowly, eventually leading to a very weighty sensation in the head and limbs. Because of its slow onset, those enjoying Grape Ape should consume cautiously, keeping in mind that a little of this strain can go a long way. In ideal conditions, Grape Ape provides a palpable sense of both mental and physical relaxation, easing users into a spacey calmness. Rather than stimulating rapid-fire thoughts, Grape Ape offers a full body stone. Like the similarly simian-named hybrid Gorilla Glue, Grape Ape may leave you feeling like a clumsy, sleepy primate. Its indica strength makes Grape Ape a helpful strain for those suffering from nagging pain, whether due to temporary aches or more chronic conditions like fibromyalgia. It can also soothe sore muscles after strenuous exercise. Mentally, Grape Ape can melt stress and anxiety with the force of its foggy high. Definitely an after-dark strain, Grape Ape is great for inducing sleep.
Grape Ape strain plants may be difficult for novices to cultivate. If grown outdoors, the strain tends to be resistant to both disease and destructive bugs. It can be easily grown indoors as well, given its indica shape: plants are bushy with strong lateral branches radiating from the central stem. Grape Ape plants rarely exceed 4 feet in height. Growers may want to practice topping, by trimming wide fan leaves at the top of the plant to allow light to reach lower branches. Grape Ape flowers within 7 to 8 weeks when grown indoors and produces a solid yield of medium to large flowers; growers can expect as much as 74 grams or about 2.5 oz of flower per square foot.
Just as it's difficult for novice growers to cultivate, Grape Ape may be a tough smoke for cannabis newbies: its gradual and powerful high can be disorienting, even to experienced smokers. Extremely popular on the West Coast, Grape Ape is an excellent strain for users who want to feel pleasantly knocked out or overpowered. The unique ability of Grape Ape to cause smokers to melt into their surroundings is best enjoyed at night – whether solo after a stressful day of work, or in an intimate gathering of familiar friends.
What Are The Genetics Of The Grape Ape Strain?
When considering the lineage of the Grape Ape cannabis strain, one can easily assume that there is a great deal of "purple" influence sprinkled into the mix. Sure enough, Grape Ape is an Indica-dominant hybrid of the Mendocino Purps strain, Skunk #1, and an Afghani landrace.
The combination of the Mendo Purps and Afghani strains is known to bring about an intense body melt. That makes it ideal for patients suffering from insomnia or chronic pain.
However, Skunk #1 is a Sativa-dominant strain that tends to pass on an uplifting cerebral effect. This is somewhat true in the case of Grape Ape, but it tends to be outweighed by the heavier effects caused by the Mendocino Purps and Afghani strains.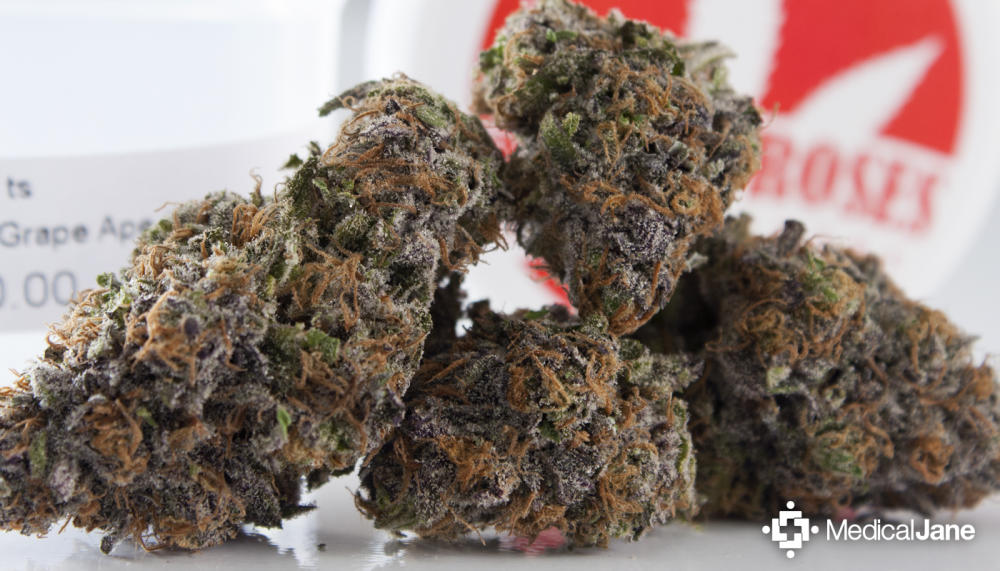 How Will A Batch Of The Grape Ape Strain Affect Me?
I came across this particular batch of the Grape Ape strain at Buds & Roses Collective in Studio City, CA. As always, I was excited to see that it was grown using Kyle Kushman's Vegamatrix cultivation techniques.
As far as jar appeal goes, this veganically-grown Grape Ape certainly did not disappoint. The flowers were a beautiful mix of purple and deep green.
Interestingly, each individual flower seemed to have its own unique color. According to Aaron Justis, the Owner of Buds & Roses, this difference in color was completely dependent on which part of the plant that the flower originates from.
"Smoking the Grape Ape strain seemed to eliminate any pain throughout my body."
The Grape Ape strain's terpene profile seems very similar to that of Granddaddy Purple. Both strains have an intense berry aroma, making it hard to tell them apart based on smell alone. I likened the smell from this batch to a big bowl of Berry Kix.
This batch of the Grape Ape strain was a great representation of the strain overall. Smoking it seemed to eliminate any pain throughout my body, and it noticeably reduced the amount of tension I could feel in my neck and shoulders. It helped counter any anxiety as well.
With that said, large concentrations of the Grape Ape strain have a tendency to make patients groggy after a couple of hours. Accordingly, it is best to medicate with this strain at night. Consider the Grape Ape strain if you suffer from insomnia, chronic pain, chronic stress, or muscle spasms.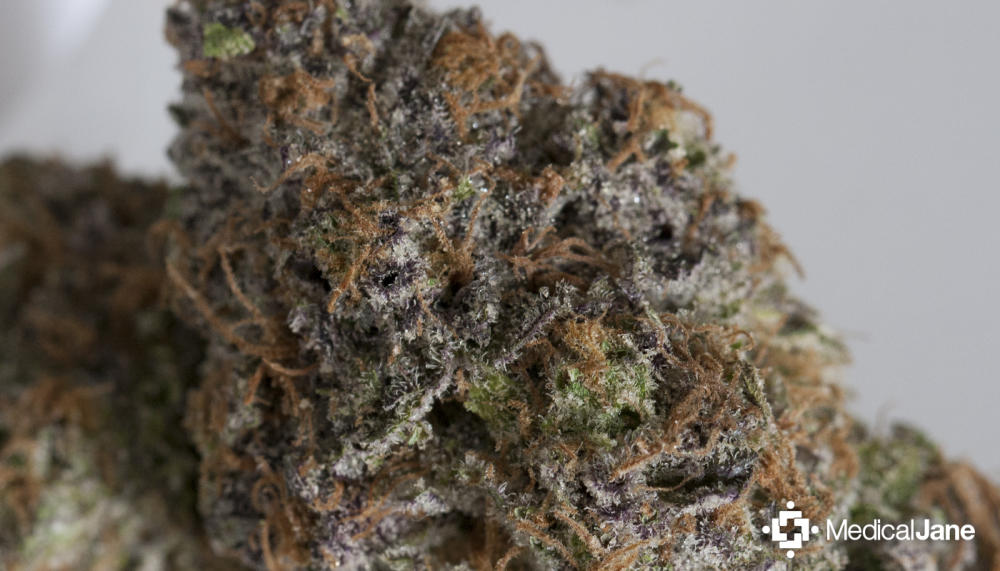 GRAPE APE STRAIN OVERVIEW
The strain Grape Ape is an incredibly delicious strain tasting overwhelmingly of grapes, but also with notes of strawberry and candy as well. It's an incredible mood booster of a strain, and can also be useful for increasing focus and your ability to relax. Great for evening use as well, due to its sleepy and sedating ending.
FLAVORS
CANDY
GRAPE
STRAWBERRY
SKUNK
COMMON USAGE
CHRONIC PAIN
INFLAMMATION
SLEEP
EFFECTS
FOCUS
RELAXATION
SLEEP/SEDATION
SPACY/CEREBRAL
GROWING INFO
THIS STRAIN CAN BE GROWN BOTH INDOORS AND OUTDOORS, AVERAGE FLOWERING TIME INDOORS IS APPROXIMATELY 7-8 WEEKS, AND ANYWHERE FROM LATE SEPTEMBER TO EARLY OCTOBER IF GROWING OUTDOORS.
Today we are here again with another strain review, and this time we are exploring the wonder that is Grape Ape! If you are a big lover of sweet and fruity strains, then stick around because this indica-dominant beauty is not to be missed.
Sit back, grab a snack, and find out why you need to add Grape Ape to your strain collection.
What Is the Grape Ape Cannabis Strain?
This full-bodied indica is a delightful crossbreed of Mendocino Purps, Skunk, and Original Afghani, making it a pretty exciting bud to indulge in.
However, despite its fruity nature, Grape Ape packs around 18-21% THC. Therefore, you can expect a high as delicious as the taste, featuring both mind and body effects.
Apothecary Genetics and Barney's Farm originally propagated this strain. It is a dense bud that offers a thick, weighty high, lending itself perfectly to a host of medical conditions.
The Grape Ape strain is a popular choice for patients across the U.S. as well as recreational users in legal states.
A soothing and unwinding nighttime strain, we love settling down with a movie and a blanket and cracking open a bag of Grape Ape. It is a relaxing, mellow experience not to be missed.
Grape Ape Aroma, Flavor, and Appearance
Where do we start with Grape Ape? If there is one thing that can indeed be said about this flower without question, it's that it is visually striking in every way. Although Grape Ape won't typically grow very high, its large buds and distinctive appearance make it a favorite amongst growers and enthusiasts.
The dense buds of Grape Ape are shrouded in deep purple leaves, which darken as the flower matures. With a generous, moderate to high helping of trichomes, this is a reasonably sticky plant and gives off a potent fruity aroma.
Oh yes – one thing we love about Grape Ape is the enticing smell that resembles candy and berries. You will adore it if you like sweet strains. Those with a nose accustomed to cannabis should also get whiffs of skunk and hash, but the overpowering taste when you inhale will be grape.
With an almost sickly sweet flavor, you won't need much to feel satisfied. This is great because a little of Grape Ape can go a long way when it comes to its high, too!
Grape Ape Grow Info
Cultivators typically consider this a strain with average difficulty, and novice growers could find this a challenging bud to work with.
It is possible to grow Grape Ape successfully outdoors. You will likely see that it proves its worth with high resistance to both disease as well as destructive insects.
If you are looking to grow Grape Ape indoors, you should find it reasonably easy to cultivate. However, in true indica form, this bud will likely grow outwards with bushy and hefty lateral branches, which will probably need some skilled maintenance work to keep it under control.
If you find yourself short on indoor space, don't worry – these plants rarely exceed four feet in height. Additionally, you can trim down the broader leaves at the top of the plant to allow light to reach the lower half.
Grape Ape produces a sturdy yield of medium to large flowers and around 74 grams per square foot. And trust us you will love the scent this one gives off as it grows!
THC Content: Highest Test
Grape Ape is a fairly potent strain, containing an average 18-21% THC. Inexperienced users should start slowly to avoid unpleasant side effects.
CBD Content: Highest Test
This strain has pretty average CBD levels for a strain that is rich in THC. It rarely exceeds 1%, with average levels of around 0.6%. That said, Grape Ape strain still has some use as a medical marijuana strain.
Medical Benefits of Grape Ape strain
The high of this indica-dominant hybrid is interesting. While many say that it knocks them out for the evening, others report a clear-headed and soothing high. What we know for sure is that a little too much can see you couch-locked for hours, so if this isn't your aim, tread carefully!
You shouldn't find Grape Ape strain too overpowering, but don't underestimate the potency of its high. Users often describe it as full-bodied, leaving both your mind and body relaxed and spacey. Indeed a bud for evening smoking, people living with insomnia should benefit significantly from the sedative effects of Grape Ape.
Patients can apply Grape Ape  strain to a range of conditions due to its useful pain-relieving properties. In fact, many athletes turn to this after an intense workout to ease muscle tension and soreness.
If you struggle with anxiety, depression or PTSD, the calming effects of this indica can be an ideal way to unwind and relax. It leaves you in a state of pleasant, quiet contemplation that you are bound to enjoy.
For a beautiful blend of euphoric relaxation, this is one for you. Just remember to start with a little amount as too much of Grape Ape strain can be disorientating.
Possible Side Effects of Grape Ape strain
As we said before, Grape Ape in heavy doses can lead to disorientation. As is the case with most strains, we don't advise consuming too much and would suggest newbies take extra care with dosing.
The smoke from Grape Ape can be slightly harsh and may leave you with a sore throat, so this is something to consider before trying this bud.
Like with many cannabis strains, Grape Ape is likely to give you a dry mouth and red eyes, which you can help by having a drink at hand. Regularly removing yourself from a smokey space is another way to combat this irritating side effect.
Final Thoughts: Is Grape Ape strain Your Next Sweet Treat Strain?
We love Grape Ape; it's a typical indica with some soothing effects, and it tastes incredible to boot! We realize that many cannabis lovers will give this one a wide berth for its fruity and sweet-like taste, but for those who are into that, you will adore this strain!
Let us know in the comments if you have tried Grape Ape, and what did you think of it? We would love to know!
About this Indica Strain
The strain Grape Ape strain is a powerful indica that derives its name from its distinct color and flavor. Its dense buds resemble large blackberries or grapes that are a deep purple color when ready to harvest and its taste and smell are similar to sweet berries with a skunky undertone.
The parents of Grape Ape are the indica Afghani, hybrid Skunk No. 1, and some believe that hybrid Mendocino Purps is also a part of the lineage. Reviewers have made note that it is a phenotype of the famous Grand Daddy Purple.
Grape Ape strain  THC content averages at 16% and doesn't normally get any higher than 20%. Its high causes the eyes to feel heavy, creates a strong body buzz that relaxes the muscles and in many cases creates a couch-lock. It renders the consumer into a lazy stoop which makes this strain best for nighttime use. It's been used to help with insomnia and anxiety. Some reviewers report this strain is good for clearing the mind while relaxing.
Some have reported bouts of paranoia after consuming too much, but normal side-effects such as cotton mouth and dry eyes are to be expected.
Though this indica rarely hovers above four feet tall and only takes six to eight weeks to harvest, it's not recommended for first-time growers since it requires extra attention during cultivation.
Lab Data
Cannabinoid Lab Data

| Cannabinoid | Amount |
| --- | --- |
| THC: | 16%-20% |
| CBD: | 0.2% |
| CBN: | <0.1% |
| THC-A: | 20.4% |
| THCV: | <0.1% |
| Δ8-THC: | <0.1% |
| CBDV: | <0.1% |
| CBD-A: | <0.1% |
| CBC: | 0.7% |
| CBG-A: | 0.3% |
---
Lineage