Buy girl scout cookies strain | 100% good quality
$260.00
GSC, formerly known as Girl Scout Cookies strain, is an OG Kush and Durban Poison hybrid cross whose reputation grew too large to stay within the borders of its California homeland. With a sweet and earthy aroma, GSC launches you to euphoria's top floor where full-body relaxation meets a time-bending cerebral space.
Description
GIRL SCOUT COOKIES STRAIN OVERVIEW
Named after the
ever-famous cookies,
this dessert-like strain holds true to its name and tastes just like the sweet and minty treats sold by Girl Scouts. It has won multiple awards for its delicious and tantalizing aroma, as well as its calming and soothing effects.
FLAVORS
COOKIES (GIRL SCOUT COOKIES)
EARTHY
HERB
COMMON USAGE
CHRONIC PAIN
DEPRESSION
STRESS
EFFECTS
ENERGY
EUPHORIA
RELAXATION
GROWING INFO
FLOWERING PERIOD IS APPROXIMATELY 9-10 WEEKS, BEST GROWN INDOORS
Winning multiple Cannabis Cup awards for its almost alien-like supreme quality, Girl Scout Cookies (GSC) has been a stoner-favorite for decades, attracting the likes of those who want to consume this amazing weed because of its aromatic, entrancing and earthy aroma. Its sweet, yet slightly minty flavor, reminds those who have tried this weed of the addicting Girl Scout Cookies they grew up consuming and loving.
Since medical marijuana has been legalized in many regions of America, Girl Scout Cookies has been a popular selling strain for patients with all types of medical histories, conditions, and symptoms. Wonderful for relaxing and getting your head clear, GSC is continuing to sell out from dispensaries. It is known for its top-shelf qualities that have stoners, cannaisseurs and medical cannabis patients running back for more.
Best of all, Girl Scout Cookies is one of the most potent strains of marijuana flower available on the market, making it a brilliant solution for medical cannabis patients globally who are experiencing some of the difficult challenges of various medical conditions.
The Girl Scout Cookies strain is classified as a hybrid, with a 60% indica and 40% sativa genetic makeup. Its lineage hails from the mega-popular strains Durban Poison (a sativa) and OG Kush (a hybrid). The GSC buds grown and sent into labs for testing have shown results of a 17-28% THC content (rather high for a smoking strain), and a CBD content of 0.09-0.2% (low in CBD). When GSC is grown, variations of phenotypes in the genetics can occur, producing occasional batches of Platinum Cookies and Thin Mint (two related strains, closely tied to Girl Scout Cookies).
Originating from California, Girl Scout Cookies weed has now grown massively popular all over the world, selling out especially in dispensaries all over America.
Although it is not considered a supremely easy strain to grow, cultivators continue to produce large quantities of GSC, so that stoners and patients everywhere can keep rejoicing.
Girl Scout Cookies Aroma, Flavor and Appearance
One of the Girl Scout Cookies strain's most notable attributes is its distinctive skunky, yet slightly minty aroma. From its earthy undertones that ground you and bring you back down to the planet, to its uplifting and sweet flavor that shoots you high into the clouds, GSC is a strain of pure bliss and magic, the perfect balance for any class of cannabis consumer.
Although some variations in appearance can occur, this strain is notoriously beautiful with its distinctive and bright green twisting and turning calyxes, bundled up with deep purple leaves and neon orange hairs. Girl Scout Cookies is a gorgeous strain to stare at, with its pleasant character always managing to brighten up the world.
Expect your first hit of GSC to be a sweet but heavy one, sending you through a whirlwind of pleasing and blissful emotions.
Girl Scout Cookies Strain Grow Info
Girl Scout Cookies is not known for being an easy to grow strain, yet it is not a very challenging strain either. In regards to difficulty, GSC sits somewhere in the middle. With the correct knowledge and research, it is totally possible to cultivate a dank batch of Girl Scout Cookies weed.
The flowering time for GSC is around 9-10 weeks, which is considered average length in relation to other strains. It is possible to grow this strain in either indoors or outdoors conditions, with outdoors only being possible in the proper climate- plenty of sunny warmth and Mediterranean-like qualities for the GSC to grow and flourish in.
If you choose to grow this weed outside, make sure your growing conditions are correct and expect harvest around mid-October. Indoors, this strain grows incredibly well using hydroponic methods. This reefer is reasonably pest and mold/mildew resistant,  and has low to average desire for fertilizer, meaning that it should be fairly low maintenance to cultivate. Grown indoors, its height and size sit somewhere in the medium or average range, occasionally ending up a bit smaller than a majority of other cannabis types. However, fear not, this ganja packs a powerful punch, regardless of its smaller size and lower yield!
It will be easy to enjoy smoking GSC, for each plant typically yields up to 60 grams of fresh ripe cannabis during harvest. As long as you provide the Girl Scout Cookies strain with an adequate amount of water on a regular basis, and care for the plants as you normally would any other strain of weed, you should expect to have a delicious and hefty yield, that will produce a pungent yet relaxing high and out-of-this-world flavor.
Girl Scout Cookies Strain Effects
Girls Scout Cookies's effects are capable of bringing so much diversity to the table. With its balanced qualities, representative of both sativa and indica strains, GSC is both uplifting yet relaxing, sending consumers into a blend of euphoric full-body high and a heady, cerebral and thought-provoking mood.
Expect this strain to be one of the best choices when needing a healthy dose of creative inspiration, or some hilariously uplifting and happy times, all while it melts away any problems you might be having, one hit at a time.
Although you can expect to have some surges in energy during your high-time process with Girl Scout Cookies, there will be periods of couch-lock and complete body melting. Due to this, GSC is probably not an ideal option for a wake and bake and is better saved for later in the day when you're ready to chill out and unwind.
The high from smoking Girl Scout Cookies strain typically lasts for several hours, due to its potent THC content. This is good news for those desiring to get more bang for their buck.
Medical Benefits of the Girl Scout Cookies Strain
Although this strain won't be able to provide medical cannabis patients many healing effects from its CBD content, its high THC levels compensate, bringing potent medicinal properties to patients who have tried this powerful weed.
GSC is an outstanding choice for assisting individuals suffering from a range of issues, including:
For those who are planning on consuming the Girl Scout Cookies strain for chronic or severe pain disorders, it is important to achieve the highest dose you can handle for your pain to truly be affected. Consuming an edible or concentrate made from GSC would likely be the best choice in this circumstance.
Additionally, patients handling appetite loss and nausea could benefit from edibles or concentrates, but also could get by with simply smoking a larger dose than is considered average of the Girl Scout Cookies strain.
If you are dealing with stress, depression or another mental disorder, smoking GSC is likely best. Edibles and concentrates are not ideal in this circumstance, because sometimes, too high of a dose of cannabis can only worsen these conditions. In this case, smoking a normal amount of GSC ensures the healing benefits work in your favor. Check out our article on microdosing weed for depression to learn more.
This magic strain features more capabilities than can be counted; a diverse and top-quality strain useable by all types of patients, stoners, cannaisseurs, and more.
Possible Side Effects of Girl Scout Cookies Strain
The Girl Scout Cookies strain is probably one of the few strains that only has a couple of side effects for some consumers. The most commonly reported side effect for those who have enjoyed GSC, is dry mouth. This is easily manageable by drinking plenty of water while you are high, or another refreshing and thirst-quenching drink.
If you want your high to become a little more intense, drink some fresh-squeezed orange juice- the high levels of vitamin C will help to increase the levels of THC in your body, resulting in a heftier overall experience, while still keeping your body feeling hydrated. Some individuals that have regularly smoked this strain, have also reported experiencing mildly drier eyes, as well as fatigue when smoking too much; this fatigue could be likely due to GSC's ability to couch-lock its consumer.
In order to avoid any possible side effects, it's important to consider your limits and boundaries. Know how much of this marijuana you can handle, and don't pass that amount unless you are willing to deal with any possible adverse effects. Most of all, make sure you have the munchies ready and plenty of water to drink; staying hydrated, healthy and happy is vital!
Final Thoughts on Girl Scout Cookies Strain
Aside from sometimes challenging growing situations and a possibly average cultivation yield, the Girl Scout Cookies strain has been so world-renowned for a reason; this is due to its amazing quality and incredibly high THC content, plus its pleasantly sweet flavor and intoxicating aroma.
Starting small in the mountains of California where the strain was first created, GSC has now grown to be globally praised and desired, specifically in cities and towns all over the United States. Due to this, dispensaries are expected to continue supplying this mind-blowing strain with its powerful ability to help those struggling or dealing with various medical conditions and symptoms.
We hope you have enjoyed reading this Girl Scout Cookies strain review and found it to be both educational yet entertaining. It is important to remember that the consumption of cannabis is the sole responsibility of the user and discretion should be taken. Before consuming any cannabis it is important to understand the laws and restrictions in your state. Furthermore, it is essential that you discuss medical cannabis with your primary physician.
When cultivated indoors, GSC's flowering time is approximately 62-71 days after switching the light cycle from veg to flower. Outside, growers will need to wait until mid-October in the Northern Hemisphere, mid-April in the Northern Hemisphere, for harvest. Regardless of wherever GSC is cultivated, the plant wants to grow tall and requires training, pruning, and full exposure to light to reach its maximum yield potential.
About Girl Scout Cookies Strain
The little girls out front of the supermarket might be adorable and everything, but if you want to step up your game and dive into a flavorful, euphoric experience then these are the Girl Scout cookies you really want. GSC (formerly known as Girl Scout Cookies) is a Cannabis Cup award-winning strain comprised of OG Kush and Durban Poison and is perfect for an after-dinner treat or a nightcap.
Cookies is also sometimes known as Berner Cookies or Berner's Cookies, after cannabis mogul and rapper Berner (whose real name is Gilbert Millam, Jr). A San Francisco native, Berner lays claim to originating the strain with a growing collective that's become known as Cookie Fam. A master of branding, Berner shot Cookies into the mainstream when he got his product into the hands of no less than Wiz Khalifa. It has since become a staple strain across the U.S.
By crossing two super popular strains, the underground breeding collective Cookie Family (or Cookie Fam) has been able to elevate THC levels to a whopping average of 25% to 28% and boast CBD and CBN contents to 1% as well. If that wasn't enough to entice you, then the flavor and aroma will definitely draw you in. At first opening of the bag the sweet, earthy aromas hit your nose and only grow sweeter as you break apart the buds. The smoke of this strain is dessert like and will certainly endear you to these light green and purple-hued buds. The fiery orange hairs and bright purple leaves make it just as pleasing to the eye as it is to the palate.
The GSC high catapults you into a wave of euphoria and tingles that encapsulate your body with very little effort. These ultra-powered buds will have you questioning space and time, while utterly gluing you to your seat. The couch lock on this is real, as are the munchies, so be sure to have a box of actual Girl Scout cookies handy for good measure. Throughout the hours-long high, you'll experience waves of giddiness that might have you in minor giggle fits, though that will ebb and flow into introspection from time to time. This is an engaging high that will certainly have you feeling creative, but try as you might, you probably won't have any motivation to get anything done.
GSC has some incredibly powerful effects that are beneficial to the medical community in numerous ways. First and foremost, this is a great strain for treating chronic pain, inflammation, muscle tension, and cramps. Its highly sedative properties will have you feeling relief in no time. Additionally, many use this strain as a stress reliever. The tranquilizer-like feeling of this bud puts you in a place of complete relaxation, slaying stress and even getting you ready for a good night's sleep.
Growing techniques for this plant vary depending on who you ask, however, Cookie Fam suggests SOG indoors with either a soil or hydro set up. The flowering time on this plant is around 10 weeks or until the buds are plump and plentiful. The yield of this plant is about average, though in really stellar conditions you might be able to squeeze out a bit extra.
There are several phenotypes of this strain that include other clever plays on the plant's former name, such as Thin Mint and Platinum Cookies, however, GSC stands out from the pack with its bright purple leafiness and twisting greenery. Additionally, the THC content of this variation truly makes it a one of a kind experience.
Girl Scout Cookies Strain Takes The World By Storm
Nearly every California medical cannabis patient has heard about the Girl Scout Cookies strain. It has been a huge hit with cannabis connoisseurs since it hit the scene a few years ago.
What Is The Story Behind The Girl Scout Cookies Strain?
A great deal of the Girl Scout Cookies strain's popularity is due to a mix of solid genetics, controversy, and pop culture promotion. It was frequently rapped about in songs by Berner, a Bay Area collective owner and rapper that you may have seen recently in YouTube videos with popular rap icon, Wiz Khalifa.
The Girl Scout Cookies strain is relatively new to the market and it has not yet truly been stabilized. As a result, there are a number of phenotypes floating around including Platinum Cookies, the Forum Cut, and Thin Mints to name a few. The popularity of the Girl Scout Cookies strain and its various phenotypes has resulted in a great deal of confusion regarding two things:
Which phenotype is considered the "real" or "original" Girl Scout Cookies?
What is the Girl Scout Cookie strain's true genetic make-up (or parents)?
Berner credits a breeder nicknamed Pie Guy with developing the Girl Scout Cookies strain and calls on him to cover a few of these topics in the video below.
The Girl Scout Cookies Strain Leaves a Lasting Impression
The byproduct of OG Kush mixed with F1 Durban [Durban Poison x F1], I knew I was in for a great Sativa-like head-buzz and good flavor from the Durban Poison, as well as a heavy body-melt from the OG Kush.
"The smoke from Girl Scout Cookies is smooth and the taste is reminiscent of OG with a hint of cotton candy and thin-mint."
The appearance of Girl Scout Cookies is simply wonderful. Tons of different shades of light green mixed with a bit of purple and orange hairs makes this a spectacle for all to see. This strain's distinct look makes it one that I can pick out of a lineup without fail.
The fresh smell is pretty unique as well, but the Girl Scout Cookies strain's smoke-ability and potency are the standout attributes on this all-star's trading card. The flavor is one-of-a-kind and reminds me of brown sugar and pepper spice with a slight nutmeg undertone.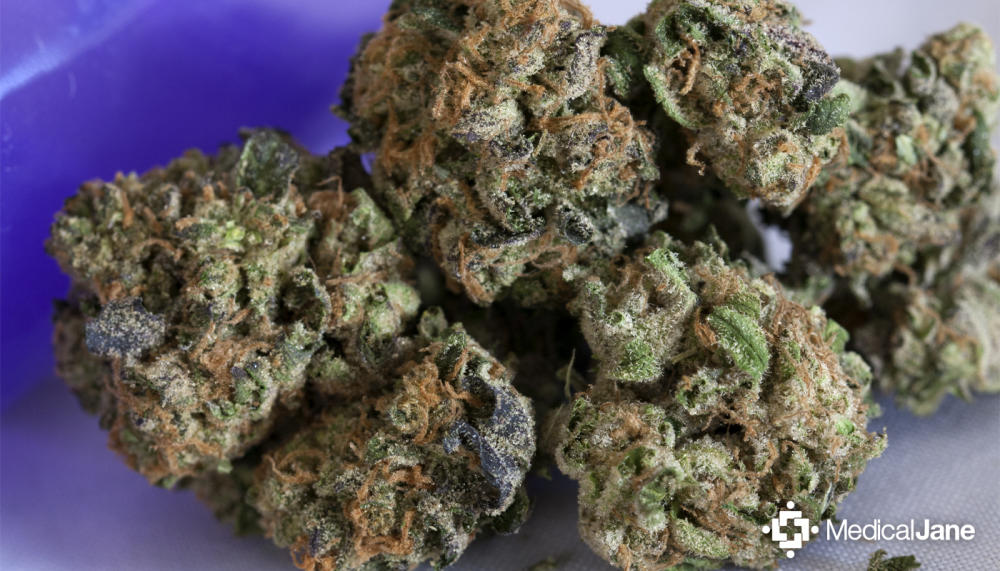 How Will The Girl Scout Cookies Cannabis Strain Affect Me?
This Indica-dominant hybrid is known to be quite spacey, creating a bit of a cerebral mind-warp. This makes it difficult for some to focus on a task longer than a few moments without conditioning. I found myself on the front porch after a short vaporizing session, just watching cars go by for hours while thinking about life — something I rarely do with my busy schedule.
"The Girl Scout Cookies strain allows to me to relax and fully enjoy the day."
Accordingly, I prefer to medicate with the Girl Scout Cookies strain on those days when there is not too much on my plate. It allows to me to relax and fully enjoy the day to the fullest. It is because of this sentiment that the Girl Scout Cookies strain has become popular among patients suffering from anxiety, chronic stress, depression, migraines, and more. It has the capability of becoming a knockout strain in large concentrations as well. In turn, the Girl Scout Cookies strain may even be a useful option for those suffering from sleeping disorders like insomnia.