Buy Dirty Girl strain | 100% good quality
$280.00
Dirty Girl strain is a sativa-dominant cross of a Trainwreck hybrid, known as Arcata Lemon Wreck, and Cinderella 99. The combination produces a tropical aroma of pineapples and citrus fruit with a sharp pungent note reminiscent of Pine-Sol. The flavor of Dirty Girl is like sweet lemon candy and the effects it produces are happy and creative. Dirty Girl will elevate your mood and may help avoid the complications of depression, anxiety, and migraine headaches.
Description
All About Dirty Girl Weed Strain
Dirty Girl strain is a 70/30 Sativa-dominant hybrid bred probably by Kingdom Organic Seeds. The strain with a provoking name is a Trainwreck phenotype. It is an offspring of Cinderella 99 and Arcata Lemon Wreck.
The terpene profile inherited from ancestors makes Dirty Girl cannabis smell like tropical fruit with pungent musk notes absent in taste. The flavors include citrus and pineapple just as aroma leaving on the tong pleasant sweet aftertaste on the exhale.
The potency of THC levels below 20. Hence, the strain is a good treat for those with high or medium tolerance. Consumers who have not much experience should be careful with the dosing.
Dirty Girl strain is probably one of the best morning and daytime strains. Everybody, who needs an awaking kick, gets satisfied with this weed. Right after the toke, it offers users a burst of non-stop energy. It doesn't provoke munchies, so there is no distraction, only pure motivation. Users admit that after smoking this cannabis, they become able to get done a lot of tasks that previously seemed dull. The euphoria provided by Dirty Girl weed makes it a great aphrodisiac, reminiscent of the name.
Medical users admit it as a helpful tool with mental issues like depression or stress. However, it is not recommended for those prone to anxiety and panic. It cures attention deficit disorder and relieves mild pains.
The seeds are not available for commercial sale, so breeders derive their plants from the mature ones. The flowering time is close to an average of 8-9 weeks.
Strain origin
Afghanistan
Colombia
India
Mexico
Thailand
About Dirty Girl strain
The provocatively-named Dirty Girl strain is a cross between Cinderella 99 and Lemon Wreck, a Trainwreck-derived hybrid. Grown outdoors in Washington state's sunny and fertile Okanogan Valley, it represents the best of what sativas have to offer. It has a complex flavor profile and a long-lasting cerebral high that can be potent even for more experienced cannabis users. Cannabis testing lab Analytical 360 has found flowers of Dirty Girl to have between 17% and a whopping 28% THC.
Dirty Girl strain  flowers are visually unremarkable, with small to medium buds that have both elongated and spherical shapes depending on the phenotype. The leaves are yellow-green and are threaded through with honey-colored hairs (which are actually pistils, meant to catch pollen from fertilizing male plants). One visual highlight, however, is the high concentration of sticky trichomes that coat the surfaces and inner crevices of these flowers. When properly cured, the flowers give off a hashy, incense like aroma, evidence of grandparent strain Afghani. A tropical citrus tang lurks underneath this musk, and when buds are ground or broken open, they may give off a faint sting of ammonia. When combusted, Dirty Girl yields a smooth smoke that tastes simultaneously sweet and lemony on the exhale.
Dirty Girl strain has a high that takes hold quickly, making itself known with an initial headrush and a tingling pressure around the eyes and temples. As time progresses, smokers may notice a rapid increase in associative thinking, a pattern that sometimes leads to mindrace. This uptick in cerebral activity can be accompanied by glowing euphoria, making users feeling more chatty and friendly than they ordinarily might.
These energized effects can provide all the motivation needed to plow through a long to-do list or to clean up around the house. Eventually, a slight body high creeps up to ground out any disorienting mindrace; this combination of mental stimulation and physical ease may facilitate deeply creative or analytical thinking. In the right conditions, Dirty Girl can also live up to her name by acting as a powerful aphrodisiac. Because its onset can cause smokers to feel more wired than relaxed, this strain may not be the best choice before bedtime.
Dirty Girl strain strong action on the brain makes it a good option for medical cannabis patients. Because it allows users to feel simultaneously focused and relaxed, it may improve concentration for those with attention deficit disorders. Those struggling with stress or depression may find that Dirty Girl's thoughtful mindset allows them to find fulfillment by living "in the moment." The slight physical effects made ease mild to moderate aches and pains, but as noted, this may not be the best way to crush stubborn cases of insomnia. Because of its early tendency towards recursive thinking, Dirty Girl is not recommended for those who are prone to anxiety or paranoia.
Seeds of Dirty Girl strain do not seem to be available for purchase online. Instead, prospective growers should obtain clippings from mature plants that can be grown as genetically identical "clones." This strain can thrive when grown outdoors — as its success in central Washington has shown — but such cultivation requires warm and semi-humid temperatures with consistent daytime temperatures in the 70 degree Fahrenheit range.
It can be conveniently grown indoors, as its plants are short and bushy with strong lateral branches. Growers should regularly 'top' plants of Dirty Girl by trimming any broad fan leaves in order to let light and air reach low-growing flowering nodes. Dirty Girl flowers within 8 to 9 weeks when grown indoors. It offers growers a typically high yield for their efforts. In order to preserve the precious trichomes on newly-harvested flowers, growers should be sure to properly cure their buds — this is a two-stage process that involves first drying the flowers upside down in ambient conditions of 50% humidity and then sealing them in airtight jars in ambient conditions of 60-65% humidity.
This fast and buzzy sativa is a great example of locally-conscious cannabis breeding. Its tasty citrus flavor and long-lasting high are valuable to cannabis veterans and novices alike. Dirty Girl can be a great way to boost daytime energy — and might even come in handy as a caffeine alternative.
This Sativa dominant cross uses Cinderella 99 and Arcata Lemon Wreck, a Trainwreck hybrid. It is a wonderful strain to elevate the mood, and it helps to keep the complications and symptoms of migraine headaches, anxiety, and depression at bay. The buzz is very creative and happy, almost boosting your energy along with your mood. This is not one of the best strains that you want to be smoking before bed, since it could cause you to lie awake from the uplifting feeling. There are no sudden spikes in your high – just a nice smooth buzz. The appearance of Dirty Girl is green with plenty of white crystals and lots of orange hairs. The aroma is similar to the household cleaner Pine-Sol, pungent and sharp, yet somewhat tropical with its tones of citrus fruit and pineapples. The taste is sweet and citrus – similar to sucking on a lemon candy.
The sativa cannabis strain Dirty Girl emits a scent that's reminiscent of chemicals and pine (similar to Pine-Sol) with undertones tropical citrus. The taste is fruity and of lemon candy without the chemical scent it produces.  When harvest-ready, its buds are covered with crystal trichomes and orange pistils.
Dirty Girl strain is the daughter of crossing the two hybrid strains of Cinderella 99 and Trainwreck. Some say Arcata Lemon Wreck also shares genetics with this strain.
THC levels are often high, some crops reaping in at 28%. Its high is know to help improve mood by alleviating stress, anxiety, headache, and mild depression. Dirty Girl will increase both creativity and energy, so don't consume this strain at night. It's best consumed during the day when tasks need completion. Because of its uplifting affects, Dirty Girl can help alleviate insomnia.
Negative side-effects include anxiousness, dizziness, or paranoia especially when higher doses have been consumed. Dry mouth and eyes are normal.
Lab Data
Cannabinoid Lab Data

| Cannabinoid | Amount |
| --- | --- |
| THC: | 21-28% |
| CBD: | 1% |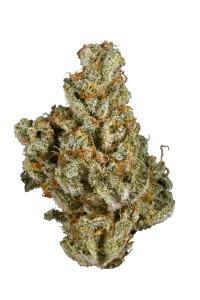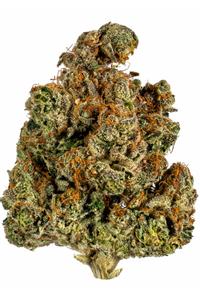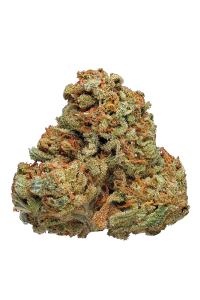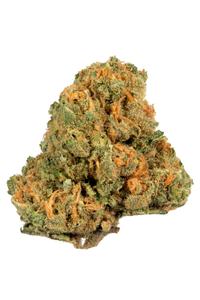 Effects
It must be mentioned that Dirty Girl strain is a powerful strain. Looking at its THC level, it has been measured to be as high as 28%. As such, the reasonable expectation for users is to feel a tinge of excitement knowing what is to come. But what are users expecting?
In most cases, Sativa-dominant strains with whopping high THC levels deliver a rushing and intense mental high. But that is not the case with the Dirty Girl strain. As mentioned, she is pretty nice at first – delivering a gentle onset with an ever-intensifying head high. Almost immediately, users start feeling their moods dramatically improving. Many report feeling happier and elated, and most are also more sociable. There's also the tendency to talk a bit too much.
It does have Indica properties to complement the head high, producing a mellow and relaxing physical high. In some ways, it limits that further intensification of the head high before it goes out of control.
The best part about using Dirty Girl is that it does not seem to lead to narcotic like effects, nor does it induce psychedelic effects. Even so, this is a tough girl and she has a dark side too, which is detailed in the Adverse Reactions section.
Fragrance
When it comes to her fragrance, we have to agree. She is dirty, indeed, with her pungent and earthy aroma. But the sweet scent that blends in together with a hint of fruity pineapple magically turns it into a desirable scent.
Flavors
How does the Dirty Girl strain taste? For starters, take that inappropriate image out of the mind. So, focusing on the strain, she does have a distinctly sweet taste blended with hints of pineapple and citrusy lemon. Some people may be reminded of Pinesol, but if so, it is not that distinct. Overall, this is one delightful treat to the palate.
Adverse Reaction
So, this is where it gets dirty. As great as the strain is in delivering its mostly Sativa effects, it is also a tough strain to handle. In other words, she also comes with negative reactions that people should know about before hooking up with her.
Experiencing dry mouth and eyes is a common occurrence with the use of marijuana. There is no other way around it so users should just get used to it, as well as drink lots of water.
It is easy to underestimate the potency of Dirty Girl as it does not come rushing in like others. But it is also known to cause some people to feel dizzy.
Finally, those who are suffering from anxiety disorders should avoid using this strain. While many strains can help in the management of anxiety, this is one strain that does not do that. As a matter of fact, it may also further raise the level of anxiousness. Furthermore, it is also one that causes people to feel more paranoid.
Medical
As strange as it sounds, Dirty Girl strain  is pretty useful for medical cannabis users. For instance, while it has the potential of increasing anxiousness or paranoia, it is also beneficial in managing depression. In fact, doing that is the top reason why medical marijuana users sought this strain. Aside from that, it is also noted as a great strain for use in dealing with stress.
TIP: Looking to buy Dirty Girl seeds? Check out this marijuana seed shop
There are other medical benefits, but these only works in mild cases such as pain relief.
Growing
Without much information to work with, we have to take hints from its parents. So far, what we have gathered is that it grows in both outdoor and indoor areas. Unfortunately, it is very difficult to get a hold of these seeds. However, you may be able to locate clones.
Flowering Time
Indoors
There is no indication that the Dirty Girl strain could not thrive using hydroponics. As such, it would be great to try growing one using that as well as combining the Sea of Green (SOG) system. A reasonable expectation is that it should be ready for harvest in as early as 8 weeks and provide a yield of 10 to 12 ounces per square meter.
Outdoors
Our best estimate, at this time, is that it is ready for harvest in early October. By then, the estimated yield for each plant should at least be 12 ounces or more.
Have you ever smoked or grown your own Dirty Girl? Please let me know what you think about this marijuana strain in the comments below.
Dirty Girl is a strain of mysterious origins, first appearing in Washington's Okanogan Valley and thought to be a combination of Cinderella 99 and the Arcata phenotype of Trainwreck. Dirty Girl is so named for the intense THC potency it inherits from its parents.
Dirty Girl strain is a sativa-leaning hybrid that, oddly, develops into shorter, wider plants with broad fan leaves. The strain may be a good candidate for the SOG method, but thrives in both indoor and outdoor gardens. Dirty Girl flowers in eight to nine weeks or by early October and produces healthy yields of up to 12 ounces per plant.
Are you a dirty boy? Then you want will some Dirty Girl. This Sativa dominant hybrid is THC loaded at over 20%. And its guaranteed to satisfy you, as any Dirty Girl should. Dirty girls know what they want and will do anything to get it, But they are always worth it. And so is this strain. I am certain our Dirty Girl Strain Review will make you feel the same way. But user, you're warned. Dirty Girl is not for everyone. Only a real man can handle a really Dirty Girl.
I was not looking for anything special when I went to the library that Friday. It was cold and the streets were a slushy snowy mess. However, I needed to get some research done and did not have what I needed at home or online. So, as I ruffled through the newspaper files of the 1950s minding my own business, I saw her. She looked very demure and serious. She was serious. But she was far from demure. After a 5 minute conversation, we were on our way to her house to get stoned. And I had other plans. But at this point, I had no idea what a Dirty Girl she would turn out to be. But we are here to first talk about the powerful weed strain she introduced me to that rocked my world.
DIRTY GIRL STRAIN REVIEW
This Dirty Girl is dirty and powerful. At anywhere from 21%-25% THC, you are going to get high, really high. This 70% Sativa dominant bad girl is a hybrid cross of Cinderella 99 and Arcata Lemon Wreck. Lemon Wreck is a hybrid on the famous Trainwreck. All of these strains possess super strong euphoric properties.
Like waking up to a Dirty Girl this bud is best enjoyed in the morning before heading out. It's very uplifting and mood altering. And also has a pretty good energy punch. If you are creative this weed will have you writing a symphony. If you're depressed, forget about it. You will be dancing in the streets. This is a happy strain. Oh, and its super yummy. It has a sweet and fruity taste that is quite pungent. Dirty Girl is very green with white crystals. And its riddled with orange hairs. Have you ever noticed most dirty girls have orange hair?
DIRTY GIRL STRAIN REVIEW – FINAL THOUGHTS
So, if you want a solid happy buzz that will stay with you for most of the day this Dirty Girl is for you. If you like a fruity yummy strain then Dirty Girl is for you. If you suffer from anxiety or depression then this weed will save your life. And finally, if you're horny and you want a really dirty girl just go to the library.
Buy Dirty Girl strain | 100% good quality | Buy Dirty Girl strain | 100% good quality | Buy Dirty Girl strain | 100% good quality 
Buy Dirty Girl strain | 100% good quality | Buy Dirty Girl strain | 100% good quality | Buy Dirty Girl strain | 100% good quality 
Buy Dirty Girl strain | 100% good quality | Buy Dirty Girl strain | 100% good quality | Buy Dirty Girl strain | 100% good quality 
Buy Dirty Girl strain | 100% good quality | Buy Dirty Girl strain | 100% good quality | Buy Dirty Girl strain | 100% good quality