Buy chemdawg 91 | good quality
chemdawg 91 is thought to be an offshoot of the original Chemdog strain, and the numerical addition of "91" is believed to reference the year the strain first came into existence. Some growers believe Chemdog 91 to be a cross between Chemdog and Skunk, which may explain its particularly pungent aroma.
Description
Chemdawg 91 Cannabis Strain: All You Need to Know
chemdawg 91 strain is a great balance between Indica and Sativa. It consists of 55% from Indica and 45% Sativa. Keep in mind that it is also known as Chemdog so we may use the term in the chemdawg 91 strain review below. The THC level is around 19%, while CBD is between 0.01% and 0.1%. All of this suggests that this strain is more potent than average and it comes as a very popular choice in 2020.
History Of The Chemdawg 91 Strain
The origin of the chemdawg 91 weed strain is mysterious as nobody knows for sure how the strain was developed and where. The only legend we were able to find is that the weed was developed as the result of mixing Kush, Northern Lights, and Hash Plant. The full information related to the strain's origins we have just mentioned is one of the legends. The second one is as follows.
The weed comes as a product of Paris XXX, Chem Jack, Thai and Nepalese strains.  All we know is that the cannabis in question is very popular and has superb potency, which translates into the powerful effects. The aroma and taste are also powerful and strong, but they will be explained in the dedicated section.
What Are The Effects Of The Chemdawg 91 Strain?
By now you should know that the chemdawg 91 marijuana strain is a powerful, extremely potent weed that has been used by people from all over the world. One and probably the main reason why is the fact it has superb and very desirable effects. In general, those effects are:
Cerebral
Creative
Euphoria
Happiness
Relaxing
If we combine all of the effects, we can see a specific type of user who will benefit the most from the weed and who love the strain. Another thing we must explain here is that users get all the perks but they do not get side effects. There are 2 of them and they are both mild.
What Are Medical Applications Of The Chemdawg 91 Strain?
chemdawg 91 cannabis strain is effective in treating several issues and conditions. First of all, it is good for treating depression and anxiety. It leads to happiness and relieves the symptoms of depression. The situation is the same when it comes to anxiety. We believe that these are the two and the main effects and purposes of the weed. Sufferers from PTSD can use the strain as well and they have been sharing positive and effective results for a long period of time.
Secondly, chemdawg 91 is effective in treating chronic pain. The effects are noticed almost immediately and they last a couple of hours. In addition, you can use cannabis to treat migraines, headaches and so much more.
Negative Effects
In our chemdawg 91 strain info section, we must include the side effects. They are mild and they include:
However, these are the only side effects you can notice. There are no more advanced or more problematic side effects noticed. For example, dizziness, panic attacks and similar are not present. This allows users to smoke the weed while at work or during day time! Physical side effects, such as red eyes or nausea, are not reported.
Effects – Medical appointments – Negatives
| | | |
| --- | --- | --- |
| Effects | Medical applications | Negatives |
| Cerebral | Bipolar Disorder | Dry mouth |
| Creative | Chronic Pain | Dry eyes |
| Relaxing | PTSD | |
| Euphoria | Nausea | |
| Happiness | Headaches and migraines | |
| | Insomnia | |
| | Depression | |
| | Appetite loss | |
| | Stress relief | |
What Are The Main Reasons To Choose The Chemdawg 91 Strain?
First of all, you should choose the strain for its high potency and stunning medical effects on the body and mind. But, before you move to actual use, we have to explain additional reasons why you may consider this particular weed.
Looks
Looks are best explained with the trichomes, which are, in this case, scenario thick and massive. They cover dark green and vivid colors of the buds. Orange pistils make the buds even more attractive and more unique. In general, the plant looks great and it will compliment your garden if you are a grower.
Smell and aroma
Smell and aroma are probably the biggest differences and the main characteristics of the weed. Basically, the smell and aroma are earthy, diesel and pungent. Keep in consideration that the aroma and smell are completely unique, not something you can see and feel with other strains. Once again, you will need some time to get used to all of this.
Flavor
The flavor and the taste are strong and present as long as you need them. They have a natural, earthy taste paired with petrol (diesel more precisely). The lower and less sensitive effects include pine scent and lemon aroma. What this means is that the weed is strong in aroma and will require some time from you to get used to it.
Qualities
chemdawg 91 strain history made this weed special and popular, although still unknown for some users. The qualities are as we have explained above. The weed is powerful, potent, strong and comes with all the great perks you can find in premium strains. We can also add that the qualities involve massive effects and even more positive effects for users suffering from depression, anxiety, and PTSD.
Others
Here you were able to get all the chemdawg 91 strain information you will ever need. What can be added is that the weed is very popular on the black market and it is commonly available there but not all the time. It is a common choice of many growers and something that you may want to consider growing by yourself.
Who Is More Suitable For?
chemdawg 91 strain genetics makes it suitable for all types of users. However, we believe that most of you who suffer from depression, anxiety, and PTSD will get your hands on the weed in question. It is simply the most effective for treating related issues and can be the best choice period.
It is also known that users who suffer from insomnia and appetite loss will use this particular cannabis. It increases the appetite almost instantly and it will give you more energy after which you will have to sleep, to produce more energy and this makes a magic circle, which makes the strain special.
There is also a unique and strong taste here making the weed suitable for those who want and need diesel tasting cannabis for everyday use. Add the fact it doesn't cause side effects and you can smoke it literally everywhere and at any given moment.
Opinion By Growers
Growers love the strain in question. They like the growth factors, which are all positive and in essence, the cannabis type is easy to grow. Chemdawg strain seeds are easy to find, making this weed extremely popular and appalling in the eyes of growers. They also like potency, which is above average. What this means is that you can enjoy various perks and benefits from the smallest amount of cannabis. Selling it is never an issue due to the massive popularity of cannabis we are reviewing.
Popularity By Growers
Yes, the strain is extremely popular among growers and it is unlikely to find a lot of them who have never tried to grow this cannabis. It is easy to grow, which is the main advantage in this case scenario. At the same time, it is a productive weed making great yield every single time. The Chemdawg is gaining in popularity as we speak among growers, so in the near future, it will probably be one of the top 5 weeds to grow.
Popularity In Dispensaries
In this section of the chemdawg 91 strain review, we will have to take a look at the popularity at dispensaries around the globe and in the United States. We discovered an interesting fact. The weed is very popular globally and you are unlikely not to find a dispensary that sells the seeds. But, finding the strain in the United States is a bit tricky and more complicated. It is available but you will have to invest some time into research. We also know that the weed is popular in specific states such as Colorado, Nevada and on the entire West Coats. On the East Coast and other states, the popularity is average.
How To Grow The Chemdawg 91?
| | |
| --- | --- |
| Difficulty | moderate |
| Chemdawg strain flowering time | 7-9 weeks |
| Height | Up to 78 inches |
| Yield | 3-6 ounces per square feet |
| Can be grown | Indoors and outdoors |
Can Chemdawg 91 Be Used For Edibles?
The answer is no. There are a few exceptions where you can use cannabis to make edibles and to enhance their taste but these applications are extremely rare. The main reason for that is the taste of the weed. It is strong and paired with a strong diesel aroma, which isn't preferable in the cookies and brownies. If you are looking for weed to use in your kitchen and to use for edibles, it is better to pick another strain.
Related Strains
chemdawg 91 sister strain is available as well. We were able to find several weeds that share a similar list of effects, benefits and come with the same purpose.
Headband (linalool is present in higher concentration)
Sour Diesel (better arousing properties)
White Widow (more giggly)
The Final Word
The Chemdawg strain review has come to an end and all we can say now is go for it and try it today. The weed is extremely potent and powerful, far more than similar cannabis. The taste and aroma are both more specific and you may need some time to get used to them, but this is temporary and you will probably get used to the aroma within seconds. All combined, the weed gets a superb score and the highest rating we can give.
About Chemdawg 91
Chemdawg 91 is a popular hybrid bred from unknown parents – some theorize that the "91" in its name refers to the year of its creation. It is descended from the legendary Chemdawg strain which is thought to be crossed from Thai and Nepalese landraces by U.S. East Coast breeders. The phenotypes of Chemdawg 91 can waver between indica-dominant and sativa-dominant, but its THC content is strong and has been measured at levels as high as 24%.
Chemdawg 91 buds are average-sized and very sticky. Trichomes coat the brownish-green flowers, making them difficult to break without a grinder. The strain has a dank, earthy smell which, when buds are broken apart, turns more harsh and skunky (leading some to propose parentage from a Skunk strain). When burned, Chemdawg 91 has a particularly diesel, chemical flavor. The smoke is smooth, and flavors of citrus can be detected when exhaled.  For you terpene brainiacs, chemdawg 91 is high in pinene.
The strain has an initially bracing head high, with pressure behind the temples that can lead to dry, red eyes. Users report a sense of euphoria and progressively cerebral thinking. This altered thinking can include the sensation of time dilation. The uplifting mental effects are matched by a subtle body high that lingers after comedown. Chemdawg 91 is especially beneficial for stress relief and may be best suited to early evening use.
Whether cultivated indoors or outdoors, this strain has a pungency that makes discretion difficult. With a flowering time of 9 -10 weeks indoors and an outdoor harvest as late as early November, Chemdawg 91 is not a quick grow. Plants have an average to high yield.
Chemdawg 91 is in good company; its chemdawg 91 parent strain has spawned popular staple varieties like Sour Diesel and OG Kush. Bold and balanced, this is a potent strain for recreational use.
About this Sativa Strain
Chemdawg stands as one of the most popular cannabis sativa strains available, yet this '91 variant allegedly crossed with an indica somewhere down the line. It packs a powerfully pungent aroma, something between a wild skunk and the diesel scent familiar in the chemdawg 91 line. Its smoke leaves a piney, citrus-like aftertaste.
The "chem" label stems from chemdawg 91 acidic "chemical" flavor, though this particular cultivar produces a smoother, creamier smoke than other chemdawg 91 varieties. The force is strong with this one, with reported cannabinoid levels ranging between 20-27% THC. CBD measured at 0.2%.
chemdawg 91 produces an uplifting effect that makes an excellent supplement for high-energy activities.Reviewers note it's useful for controlling pain as well as inducing euphoria. Enjoy outdoor activities with this strain. For consumers with issues holding down food, chemdawg 91 stimulates appetite while relieving nausea.
Dry mouth and dry, itchy eyes may result from smoking chemdawg 91.
Lab Data
Terpene Lab Data

| Terpene | Amount |
| --- | --- |
| Beta Caryophyllene: | 0.34% |
| Limonene: | 0.12% |
| Alpha Humulene: | 0.09% |
| Alpha Pinene: | 0.07% |
History
chemdawg 91 is a portmanteau of its previous two names pre-1991: "Dog Bud" and "Chemweed." Candidates for its indica parent include Hashplant, Skunk, Kush, Northern Lights, Diesel, or a Thai landrace strain, though no one has ever confirmed its genetics outside of the chemdawg 91 lineage.
Lineage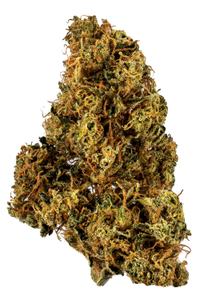 The story has been told time and time again. Finally, and the opinion is in: chemdawg 91 has a fascinating past. The potent, favorite is all thanks to the Grateful Dead and four female seeds. Chemdawg 91 has an extremely pungent smell of earth and skunk. chemdawg 91 also is titled by the names Chemdawg 1991, Chemdog, and Chem Dawg. With a high THC potency, its parent's strains, Sour Diesel and OG Kush have a combination that packs a punch and may not be for beginners.
Overview of Chemdawg 91
Chemdawg 91 is a 50/50 hybrid with a THC level of 21-27 percent and a CBD content of .2 percent. This strain's terpenes is high in Beta-Caryophyllene (.37 percent) and Beta Myrcene (.38 percent). It has medium size buds covered orange hairs and specks of white crystals. Due to its resin, this flower is hard to break apart without a grinder.
Chemdawg 91 has genetic compounds similar to many strains. A few are OG Kush GAL303, Private Reserve OG, Alcatraz OG, and Chem D. It has a moderate genetic variation which means its phenotypes vary slightly. When it comes to its flavor, it consists of spice, chemicals, and oddly, citrus.
Potential Positive Effects of Chemdawg 91
Chemdawg 91 has a variety of effects equally balancing in the mind and body. The cerebral high provides a euphoric boost of energy. Some will use their time being creative. As the high continues, it begins to move past cerebral and overcomes the body. At this point, relaxation takes over. You could continue to do tasks, but it may become difficult to do something energetic. Either way, it is an uplifting experience.
Potential Negative Effects of Chemdawg 91
Some adverse effects include dry eyes and mouth and headaches. High dosages may promote anxiety and paranoia.
The Lineage of Chemdawg 91
Sour Diesel is widespread in the US and abroad. Sour Diesel is referred to by some as NYC Diesel. THC potency varies from plant to plant and plateaus commonly at 22%. Sour Diesel is a robust sativa, used for its energizing effects. can keep you energized for an extended period. Indoors, Sour Diesel flowers in nine to ten weeks and produces six (6) ounces per square foot. Outdoors, Sour Diesel will need harvesting in late fall.
OG Kush is a well-known and popular strain for its dynamic experience and potency THC content. OG Kush tests regularly between 19-26% THC.
OG Kush is grown in 8 to 9 weeks yielding 5oz per square foot.
Growing Chemdawg 91
Chemdawg 91 is fairly easy to grow and will produce tall plants if done correctly. It can be grown both indoors and outdoors in sunny and dry outdoor climate. Be careful of growing outdoors as the smell is extremely pungent. Chemdawg 91 is resistant to common molds and mildew.
Chemdawg 91 grows slowly. When grown indoors, harvesting is done at ten weeks. Indoors will produce a high yield of 15 ounces per square meter. When plants are outdoors, harvesting must happen by November. Outdoors will yield 19 ounces per plant.
Where to Find Chemdawg 91
You should be able to purchase this strain in many places in the legal states like California, Oregon, and Washington State. When you find it, grab as much as you can!